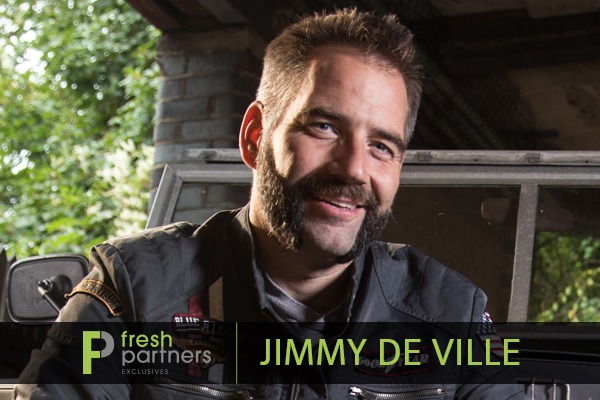 As an engineer, race car driver, adventurer and soldier, Jimmy has been tinkering with – and rebuilding – engines and vehicles his entire life. In his first tv series 'Engine Addict with Jimmy De Ville' shown worldwide on Discovery he explored abandoned factories, junk yards and deserted airfields to unearth an incredible range of combustion engines across the globe – travelling to Poland, India, Brazil, Sweden and Austria. Jimmy described the series as his dream job! His next project after Engine Addicts saw him set up Goblin Works Garage which took on unique "resto-mod" car and motorcycle builds. Now on series 3 it has been a huge hit on Quest in the UK and on Velocity in the US. He has also joined the presenting team on Fifth Gear which is currently shown on Quest.
More Information Jimmy De Ville
From childhood, Jimmy had a keen interest in how things worked, frequently pulling apart his toys to get to grips with how they functioned, before putting them back together again with a few improvements. He got a Bsc Hons in Product Design and Engineering and was awarded the Trevor Baylis Award 2000 for Innovation in Design.
Jimmy's early career involved the design and development of Action Man and Micro Machine toys for Hasbro and he was then invited to build a radio controlled paranormal search vehicle for Channel 5's TV show Urban Gothic. This show proved to be Jimmy's spring board into a world of physical effects, which manifested itself for Jimmy in the form of a London based SFX house, where he worked for five years on a whole plethora of various ventures including stage shows, music videos, adverts, interactive museum exhibits feature films as well as factual, magic and live TV shows.
In addition to this, Jimmy has also worked independently as a consultant engineer on a whole host of programmes, including Channel 4's Scrapheap Challenge, Windfall Films' Building the Bouncing Bomb, Dragonfly Productions' Beat the Ancestors, National Geographic's None of the Above 1&2, BBC Knowledge's Factomania, and Discovery UK's Breaking Magic.
Jimmy is also a qualified Class One Small Arms British Army Armourer involved with the development, maintenance and use of firearms and equipment. He has been deployed in both Iraq and Afghanistan, providing force protection to UK assets in Iraq (and earning a GOC in the process) and training local forces in tactics and weapon handling and deployment in Afghanistan, and within the armed forces is a qualified Range Conducting Officer, a combat medic and a top fifty shooting medallist.
Jimmy built the house he lives in by combining an old tin tabernacle with some modern eco know-how and as well as enjoying kite surfing and paragliding, has ridden alone and unassisted to the Sahara on a motorbike, just after passing his test. In all, he is not dissimilar from the Action Man he used to design.
• Celebrity/influencer PR Campaigns
• Celebrity/influencer social campaigns
• Celebrity/influencer endorsements
• Celebrity/influencer brand ambassador
• Corporate Speaking
• Virtual/Live events and hosting
• Broadcast days